Menue
Research Technology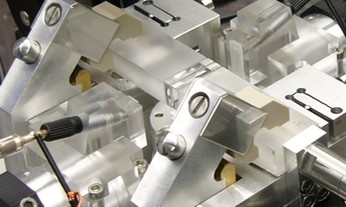 The Research Technology Division develops, designs and produces technical devices and components for the experimental work in the scientific departments of the institute. The service focuses on the supply of specific equipment that is not available on the market.
In this way the scientists get the required technical solutions according to their individual demands.
The transfer of new ideas into experimental practice is made possible by close cooperation of scientists, engineers and techniciens. The interdisciplinary approach brings together experts for the whole range of disciplines involved. This allows to find new comprehensive solutions.
According to the requirements of a research institute the Research Technology offers a broad spectrum of services:
Giving Advice for the set up and realization of experiments
Development of new measuring methods and systems in collaboration with the scientists
Project planning of complete technical solutions
Mechanical designing of devices and components with 3D-CAD (> Development and Design)
Development of electronics, production of printed circuit boards, processor programming, instrumentation (> Development and Design)
Software development for measurement, control and automation technology (> Development and Design)
Fabrication of devices and components (> Manufacturing Technologies)
Test, adaptation, modification and repair of experimental setups and devices
Writing operating manuals, instructing users
Apprenticeship training for industrial mechanics, traineeship in different fields of work
Highly qualified staff and modern equipment ensure professional solutions in short time. The Know-how of the Research Technology Division accumulated over the years constitutes the basis for further development, modification and adaptation of the research equipment.