Menue
Dresden Science Night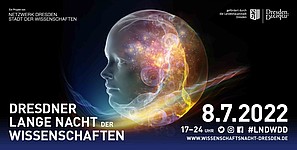 We would like to thank about 1300 visitors who came to our institute for the Dresden Science Night on July 8, 2022.
It was a great evening!
We will also publish a few photo impressions shortly.

We had informed before and during the event that IPF photographs to the Long Night. For questions regarding data protection and to exercise your rights, please contact the data protection officer of the IPF (Dresdner Institut für Datenschutz). In addition, you have the right to lodge a complaint with the supervisory authority at any time.
Visitor survey
The organizers are looking forward to feedback on how you liked it. The best way to enter them is via the visitor survey.

Among other things, you also have the opportunity to indicate whether you would like to receive a printed program booklet again in the future.
Quiz
For all those who took part in the quiz, here are the correct answers.

The winners were chosen by lot:

Quiz children:
Anika F., Dresden
Marit J., Dresden
Quiz teenagers / adults:

The prizes will be sent by mail.