Menue
berufundfamilie
The Leibniz-Institut für Polymerforschung Dresden e.V. (IPF) has received the certificate for the audit berufundfamilie [workandfamily] on May 17th, 2010.It was officially awarded on the 11th of June by the Bundesfamilienmister [German Federal Minister for Family Affairs], Dr. Kristina Schröder in Berlin.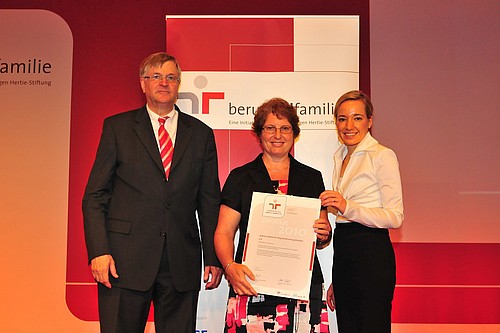 The audit process "berufundfamilie" is an evaluation process during which completed and implemented family-friendly policies are evaluated and new measures drafted. It is designed to be a long-term process and requires, next to an annual report, another re-audit after 3 years to see how far the self-set goals have been achieved.

A successful certificate acknowledges that the IPF Dresden is providing good opportunities to balance work and family life with existing flexible working time, part-time and childcare policies. Maternity or parental leave or periods of part-time employment are not a barrier for personnel development. The feeding and changing room adds to the family-friendly climate, as do training sessions/events held at family-friendly times.

The IPF will implement further family-friendly policies until the next re-audit in 2013. This includes extending childcare provisions (agreement with the Studentenwerk Dresden about reserved places at their nurseries), changing the baby feeding and changing room into a parent and child room and organising a Children's Christmas party.
Contact
Dr. Victoria Albrecht
Project Manager "berufundfamilie"
berufundfamilie@ipfdd.de
Phone +49 (0) 351 46 58 317