Menue
berufundfamilie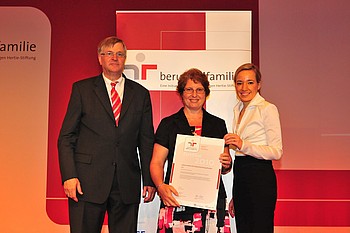 The Leibniz-Institut für Polymerforschung Dresden e.V. (IPF) has received the certificate for the audit berufundfamilie (workandfamily) on May 17th, 2010. It was officially awarded on the 11th of June 2010 by Dr. Kristina Schröder (former German Federal Minister for Family Affairs) in Berlin.
The audit process "berufundfamilie" is an evaluation process during which completed and implemented family-friendly policies are evaluated and new measures drafted. It is designed to be a long-term process and requires, next to an annual report, another re-audit after 3 years to see how far the self-set goals have been achieved.
After two re-audits ("Optimization" on August 27, 2013 and "Consolidation" on August 4, 2016), a dialog procedure has been held every three years since 2019. After confirmation of the certificate for the audit berufundfamilie in 2019, all documents were submitted on time for the second dialog procedure in October 2022. Confirmation of the certificate and release of the new short profile are expected in December 2022.

A successful certificate acknowledges that the IPF Dresden is providing good opportunities to balance work and family life with existing flexible working time, part-time and childcare policies. Maternity or parental leave or periods of part-time employment are not a barrier for personnel development. The feeding and changing room adds to the family-friendly climate, as do training sessions/events held at family-friendly times.


Contact
Dr. Victoria Albrecht
Project Manager "berufundfamilie"
berufundfamilie@ipfdd.de
Phone +49 (0) 351 46 58 317