Menue
Equality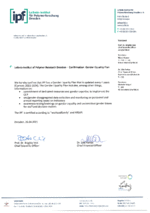 Equality in the Leibniz-Institut für Polymerforschung Dresden e.V. (IPF)
Equal opportunities and family orientation are part of the mission of the IPF. To promote gender equality the Institute implements general recommendations. The legal basis for the work is the Ausführungsvereinbarung Gleichstellung (AVGlei) [equal opportunities agreement]. The Institute also undertook to apply the German Research Foundation's "Research-Oriented Standards on Gender Equality" from 2008. In collaboration with the Equal Opportunities Officer, an Equality Plan was created, which will be evaluated and updated over a 4-year cycle. The Equality Plan, signed by the Executive Board and the Equal Opportunities Officer, complies with EU requirements and can be viewed by all employees on the Institute's intranet site.
Confirmation of the existence of a Gender Equality Plan can be found here.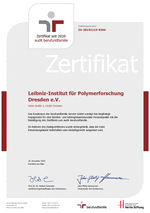 Family and working live balance
An important supporting instrument for implementing the goals is the certification for the "Audit berufundfamilie" (workandfamily). The audit process "berufundfamilie" is an evaluation process during which completed and implemented family-friendly policies are evaluated and new measures drafted. It is designed to be a long-term process and requires, next to an annual report, another re-audit after 3 years to see how far the self-set goals have been achieved. The Leibniz-Institut für Polymerforschung Dresden e.V. (IPF) has received the certificate for the audit berufundfamilie [workandfamily] on May 17th, 2010. The repeated positive evaluation of the proposals to improve the compatibility of study, work and family was our institute certified with the certificate ceremony on 27/08/2013. The employees of the Institute benefit from the following actions for the implementation of equal opportunities and to reconcile work and family life: flexible working time, favorite holiday granted during the holidays for families with school-age children, reserved childcare places for nurseries, Assistance in finding individual solutions for Work-life balance, family-friendly scheduling (meetings, seminars, training ...), Parent-child room, Health Management, Christmas for children.
Children's christmas party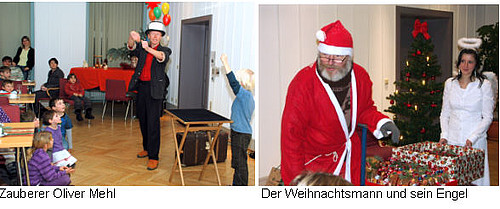 The annual Christmas for children since 2010 is becoming increasingly popular.
EU-Project "Genis Lab"
With six other scientific institutes from europe we were working together in the EU-Project GENIS LAB "The Gender in Science and Technology LAB". The results were summarized in "Guidelines".
Contact
Equal Opportunities Officer
Dr. Victoria Albrecht
User registration