Menue
International school project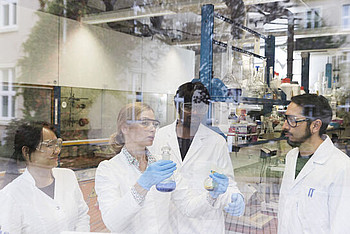 Starting in March 2023, the IPF will offer events within an international school project. They are based on the concept of the program "Science goes to school" developed by the Max Planck Institute for Molecular Cell Biology and Genetics (MPI-CBG), that has been running successfully for several years. As part of the program, young scientists from abroad go to schools in Dresden and the surrounding area for English-language events lasting about two hours. The events with personal contacts between school students and young international researchers will open up new experiences and perspectives for students in grades 8 to 12 in many aspects.
In this way, the internationality of research is made tangible. Direct contact with young people who have come to Dresden from all over the world to study and conduct research here promotes openness and mutual appreciation. In addition, the students experience in a very concrete way how important foreign language competence is, can use their school English (which, according to previous experiences, has always worked better than the students had thought) and are motivated to make their own experiences abroad. Last but not least, the fascination of research is conveyed through reports, discussions and, above all, experiments.

In order to give even more students in Saxony access to the program, the Saxon Commissioner for Foreigners and the Saxon State Ministers of Science and of Education have encouraged other research institutions to design similar programs.

At the IPF, foreign students and scientists have formed project groups in three of the institutes, dedicated to different areas of expertise. The topics and experiments come from the field of materials research and are related to the school subjects of chemistry, biology, physics and, in part, computer science.
Polymer materials for medicine and electronics (two different modules) - Head: Dr. Silvia Moreno
Polymers and elastomers for smart and sustainable solutions - Head: Dr. Muhammad Tahir
Analytical and diagnostic tools for biology and medicine - Head: Krishna Gupta
Teachers interested in the programs may contact one of the Project leaders or the Public Relations officer Kerstin Wustrack.
Appointments are of course only possible to a limited extent, with a certain lead time and in accordance with the research activities of the participants.
More information on similar programs in other institutes can be found on the website
https://sab.landtag.sachsen.de/en/commissioner-for-foreign-nationals-12444.cshtml