Menü
Personal Homepage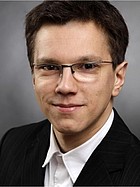 Fields of Research
Machine learning of structure-property-relationships
Patterns in chemical sequences that control, for instance, the interaction of copolymers with lipid membranes.
Hidden physical variables in chemical space revealed by "trans-encoder" neural networks [1].
Inverse problems and artificial intelligence in soft materials design.
Static and dynamic conformation patterns
Unsupervised learning of classes of polymer conformations and collective ordering.
Precursor patterns for crystal nucleation in entangled polymer melts.
Data-driven coarse-graining of simulation models
Machine learned implicit solvents and their potential for larger scale simulations of self-assembly.
Transfer learning of physical patterns between different levels of coarse-graining.
Selected publications:
[1] M. Werner, ACS Macro Letters 10 (2021) 1333-1338.
[2] M. Werner, Y. Guo, V.A. Baulin, npj Computational Materials 6 (2020) 72.