Menue
in-situ ellipsometry
Swelling of polymer films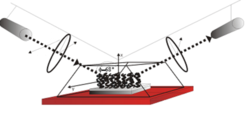 We apply spectroscopic ellipsometry in-situ to analyze swelling of polymer films focusing on the influence of:
| external stimuli | | polymer film composition |
| --- | --- | --- |
| | | |
| salt concentration and pH | | |
| | | |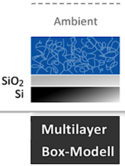 With the help of an optical model (Cauchy parameterization or effective medium approach) the following parameters of the swollen thin films are evaluated:
in-situ thickness and refractive index
in-situ roughness
solvent content in vol. %
gradient in-situ refractive index if applicable
Biomolecule adsorption
The adsorbed amount of proteins or small drug molecules into swollen polymer films is analyzed by a modified de Feijter approach (1).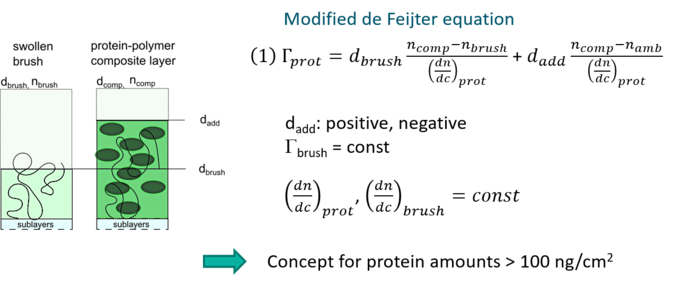 Bittrich E. et al. (2018) Polymer Brushes, Hydrogels, Polyelectrolyte Multilayers: Stimuli-Responsivity and Control of Protein Adsorption. In: Hinrichs K., Eichhorn KJ. (eds) Ellipsometry of Functional Organic Surfaces and Films. Springer Series in Surface Sciences, vol 52. Springer, Cham. https://doi.org/10.1007/978-3-319-75895-4_6.
In the limit of no protein adsorption (e.g. for antifouling polymer surfaces) we monitor the change in "optical in-situ thickness" d(n-namb) to determine an upper limit of the adsorbed amount of protein.

Bittrich E., Mele F., Janke A., Simon F., Eichhorn K.-J., Voit B., and Appelhans D. Interactions of bioactive molecules with thin dendritic glycopolymer layers Biointerphases 13, 06D405 (2018). https://doi.org/10.1116/1.5042703.