Menue
Dresden Science Night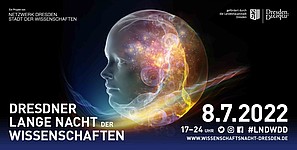 We are happy that this year we can invite you again to our institute for an on-site event in the next Dresden Science Night on July 8, 2022, 5 p.m. to midnight!
Hygiene concept and measures will be implemented depending on the rules applicable in Saxony in July 2022.

Experience the fascinating world of materials research at IPF! Learn about applications of polymer research in modern technology and discover areas of your life in which you already interact with polymers on a daily basis. The potential of this incredibly versatile class of materials is almost limitless -- from nanoscale functional materials in, e.g., electronics and medicine to lightweight structures for airplanes. No matter if you really want to dive in or if you just want to take a quick peek -- you can select from our wide range of presentations to create your individual program for the night.
Attention: We will take photos during the Science Night.
The photos will be published as impressions in photo galleries on the homepages of the IPF and the Dresden Science Night. If you do not want to appear in pictures, please give a hint to the photographer. For questions regarding data protection and to exercise your rights, please contact the data protection officer of the IPF (DID Dresdner Institut für Datenschutz). In addition, you have the right to lodge a complaint with the supervisory authority at any time.
Childrens' program
17:30
Chemistry for Children - Interactive lecture with experiments
Dr. Jürgen Pionteck
from 18:45
Do-it-yourself experiments: Polymer synthesis and hands-on physics
In addition, many of the presentations in the lab are well suited for children.
Open labs and pilot plants
The following topics will be presented on site in the laboratories and pilot plants:
Plastics processing - new: Digital model factory
3D printing (stereolithography)
Microplastics analysis
Chromatography laboratory
Light microscopy
Mechanical materials testing
Functional electronic materials (incl. Nanocars)
Blood compatibility in materials for medicine
Electrically conductive materials for future bioelectronic implants
Spin-off TissueGUARD (transplants for medicine)
Droplet analysis/wetting measurement
Filtration membranes for water treatment
Plasmonic materials/optical electronics
Plastic metallization with bionic concepts "with flora and fauna"
Sustainable materials development with accelerated electrons
Lightweight construction with fiber composites
Glass blowers workshop
The detailed program will be published in the middle of June.
Further activities and offers
Check your chances: Information on vocational training at the IPF (Chemical laboratory technician)
Opportunity to visit the art installation at the interior facade "Androgyn Mobil" by Sándor Dóró (mentioned in the book "111 Orte in Dresden, die man gesehen haben muss")
Show Room with interactive exhibits
Quiz
Beer garden