Menue
Dresden Science Night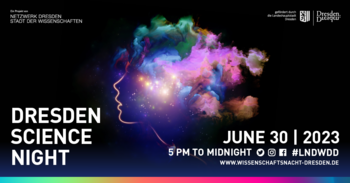 We are happy that this year we can invite you again to our institute for an on-site event in the next Dresden Science Night on June 30, 2023, 5 p.m. to midnight!
Experience the fascinating world of materials research at IPF! Learn about applications of polymer research in modern technology and discover areas of your life in which you already interact with polymers on a daily basis. The potential of this incredibly versatile class of materials is almost limitless -- from nanoscale functional materials in, e.g., electronics and medicine to lightweight structures for airplanes. No matter if you really want to dive in or if you just want to take a quick peek -- you can select from our wide range of presentations to create your individual program for the night.
Attention: We will take photos during the Science Night.
The photos will be published as impressions in photo galleries on the homepages of the IPF and the Dresden Science Night. If you do not want to appear in pictures, please give a hint to the photographer. For questions regarding data protection and to exercise your rights, please contact the data protection officer of the IPF (DID Dresdner Institut für Datenschutz). In addition, you have the right to lodge a complaint with the supervisory authority at any time.
PROGRAM
For sustainability reasons, there will be NO printed program booklets.
The full program can be viewed via the website www.wissenschaftsnacht-dresden.de.
You may search and filter the program in different ways, and you may create, download and print you individual list.
The detailed program at the IPF will be published here in June as pdf file.
Have a look at the first information below...
Childrens' program
17:00 to about 22:00Do-it-yourself experiments: Polymer synthesis and hands-on physics
In addition, many of the presentations in the lab are well suited for children.
Open labs and pilot plants
The following topics will be presented on site in the laboratories and pilot plants:
Plastics processing: injection molding and digital model factory
Laser processing of plastics - NEW
Analysis of microplastics in the environment and foodstuffs
Chromatography laboratory
Light microscopy
Atomic force microscopy
Mechanical materials testing
Functional electronic materials: Harvesting solar energy - NEW
Blood compatibility in materials for medicine
DNA - unlocking the secrets of life - NEW
Separation and degradation of pollutants in water with polyelectrolytes
Filtration membranes for water treatment
Plasmonic materials/optical electronics
Plastic metallization with bionic concepts "with flora and fauna"
Sustainable materials development with accelerated electrons
Embroidered high-tech structures: from implants to aircraft
Recycling: from yogurt cup to sock (granulating, spinning) - NEW
Nanotechnology: Polymer brushes and nanoparticles for self-cleaning or sensory surfaces and for new cancer therapies - NEW
Further activities and offers
Check your chances: Information on vocational training at the IPF (Chemical laboratory technician and Process mechanic for plastics and rubber technology)
Exhibition SciArt: Introduction of Polymer Science Language to Broader Chemical Community through Arts (SciArt)" - under the auspices of IUPAC (International Union of Pure and Applied Chemistry)
Opportunity to visit the art installation at the interior facade "Androgyn Mobil" by Sándor Dóró (mentioned in the book "111 Orte in Dresden, die man gesehen haben muss")
Show Room with interactive exhibit: Surface structuring using microfolds, Structure simulation in plastics technology, Optimised light-weight clinching tool, etc.
18:00 to 20:00: Guitar music from pop to jazz by Frank & Michael from the IPF
Quiz
Beer garden / Bake sale