Menue
News
Young Leaders Program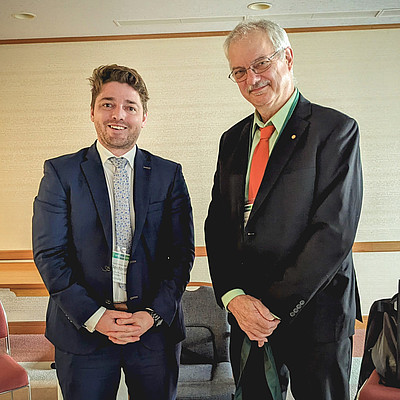 Dr. Quinn Besford wurde von der Leibniz-Gemeinschaft für die Teilnahme am Young Leaders Programm des STS Forums - Science and Technology in Society Forum 2023 - nominiert, das dieses Jahr am 30. September in Kyoto, Japan, stattfand. Er hatte die Ehre als einer von fünf Wissenschaftlern unter 40 Jahren von der Leibniz Gemeinschaft ausgewählt worden zu sein.
Auf dem jährlich stattfindenden Forum der STS treffen sich rund eintausend Vertreter aus Wissenschaft, Politik und Wirtschaft, um über die Rolle von Wissenschaft und Technik in der Zukunft der Menschheit zu diskutieren. Im Rahmen dieses Programms hatte Dr. Besford Gelegenheit, sich direkt mit Nobelpreisträgern (z.B. Prof. Meldal, im Bild rechts, Nobelpreis für Chemie 2022) zu treffen und auszutauschen.
---------------------
Dr. Quinn Besford has been nominated by the Leibniz Association to attend a Young Leaders Program of the STS forum - Science and Technology in Society forum 2023 - on September 30 in Kyoto, Japan. He had the honor of being selected as one of five scientists under the age of 40 by the Leibniz Association.
The forum is an annual meeting of nearly 1000 representatives from science, politics, and business, to discuss the role of science and technology in humanity going forward. As part of this program, Dr. Besford had the direct opportunity to meet and discuss with Nobel Prize winners.
02.10.2023