Menue
Dr. Christian Roßner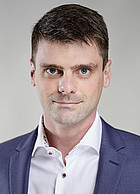 Liebig Fellow and Group Leader "Hybrid Nanomaterials" at the Leibniz-Institut für Polymerforschung Dresden e.V.
Mission Statement
We synthesize and explore polymer-grafted colloids and supercolloids.
What we do...
The interaction of nanoparticles with the environment is determined by their surface properties, and, therefore, chemical surface adaption is of utmost importance. Functionalization with synthetic polymer ligands in particular opens up vast possibilities to control the properties of inorganic nanoparticles and/or to endow them with additional functionalities. Within this context, we contribute to exploring the potential of polymer/inorganic nanohybrids for catalytic and sensing applications. Our research is driven by tailored macromolecular synthesis as well as in-depth nanomaterial characterization, which together lead to a better understanding of underlying structure-effect relationships. This provides the basis for the rational design of novel nanosensors and nanocatalysts.
Profiling Projects
Liebig fellowship (Fonds der Chemischen Industrie)
Tailored Hybrid Nanomaterials for Plasmon-Mediated Photocatalysis (DFG)
Selected papers
Rossner, C.; König, T. A. F.; Fery, A.; Plasmonic Properties of Colloidal Assemblies, Adv. Opt. Mater., 2021, 9, 8, 2001869. DOI: 10.1002/ADOM.202001869.
Galati, E.; Tao, H.; Rossner, C.; Zhulina, E. B.; Kumacheva, E.; Morphological Transitions in Patchy Nanoparticles, ACS Nano, 2020, 14, 4, 4577-4584. DOI: 10.1021/acsnano.0c00108.
Rossner, C.; Fery, A.; Planet-Satellite Nanostructures from Inorganic Nanoparticles: From Synthesis to Emerging Applications, MRS Comm., 2020, 10, 1, 112-122. DOI: 10.1557/MRC.2019.163.
Rossner, C.; Zhulina, E. B.; Kumacheva, E.; Staged Surface Patterning and Self-Assembly of Nanoparticles Functionalized with End-Grafted Block Copolymer Ligands, Angew. Chem. Int. Ed., 2019, 58, 27, 9269-9274. DOI: 10.1002/anie.201904430.
Rossner, C.; Vana, P.; Planet-satellite nanostructures made to order by RAFT star polymers, Angew. Chem. Int. Ed., 2014, 53, 12639-12642. DOI: 10.1002/anie.201406854.