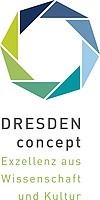 ... in Dresden
The capital of Saxony possesses an extraordinarily high density of research facilities which have made Dresden a leading research site, particularly in the fields of material research, microelectronics, and biotechnology.
The Technische Universität Dresden , institutes of the Leibniz Association, the Max Planck Society, the Fraunhofer Gesellschaft, the Helmholtz-Gemeinschaft as well as leading cultural institutions have merged together in the Network DRESDEN concept. Thus the strive to further intensy their cooperation and to create new synergies in the fields of education, research, infrastructure and administration.
Together with its partners within DRESDEN concept, the university gained the status 'excellence university' (within the Excellence Initiative of federal and land governments) in 2012 and defended it in 2019.

The IPF is a member of DRESDEN concept and closely linked to the university... DETAILS