Menue
Polyelectrolytes & Dispersions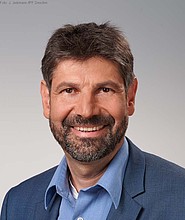 Head of the Department Polyelectrolytes & Dispersions
at the Leibniz-Institut für Polymerforschung Dresden e.V.
Hohe Straße 6
01069 Dresden
Phone: +49 (0)351 4658-275
Fax: +49 (0)351 4658-231
Email: scheler@ipfdd.de
Areas of Research
Charged polymer systems are of special importance for the interaction of materials with the environment and for tailoring functional materials, because they enable and control the interaction with aqueous systems. Using polyelectrolytes both the charge and the balance between hydrophobic and hydrophilic interaction are tailored. In particular the application of polyelectrolyte complexes and multilayers generates synergies and better response to the surrounding media. Disperse systems include aqueous dispersions of inorganic nanoparticles as well as polyelectrolytes and polyelectrolyte complexes and nanoparticles dispersed in polymer matrices. They are applied in water treatment, paper production and in the controlled release of pharmaceuticals. Dedicated methods of magnetic resonance spectroscopy on complex polymer systems for the characterization of structure, dynamics and the response to external media are developed.