Menue
Overview
A special attention is paid to detailed understanding of polymerization mechanism of Ni- catalyst-transfer polycondensation as this allows extending the scope of this emerging polymerization technique.
It is now generally accepted that Kumada catalyst-transfer polycondensation KCTP occurs via iterative TM, reductive elimination (RE) and oxidative addition (OA) steps, whereby nickel catalyst is not released from the chain forming a pi-complex with polymer chain.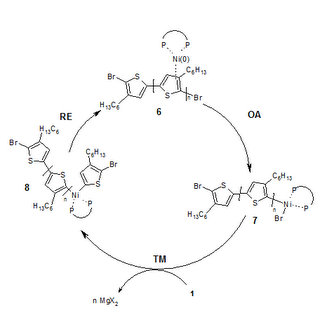 We found an intriguing catalyst " ring - walking " process. Particularly, we demonstrated that nickel catalyst can "walk" along the polymerized chain over long distances (tens of monomer repeat units) until it reaches the opposite chain end. In this case, if there is an appropriate C-Br bond, it can initiate polymerization from the opposite chain end.