Menue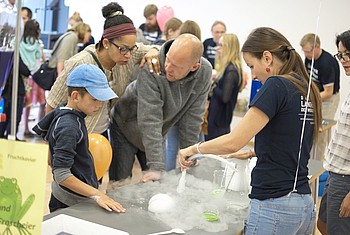 Next Dresden Science Night: June 19, 2020 (18:00-1:00)
Experience the fascinating world of materials research at IPF! Learn about applications of polymer research in modern technology and discover areas of your life in which you already interact with polymers on a daily basis. The potential of this incredibly versatile class of materials is almost limitless -- from car tires to medical implants, from nanostructures to lightweight structures for airplanes. No matter if you really want to dive in or if you just want to take a quick peek -- you can select from our wide range of lectures, labs and activities to create your individual program for the night.
Dresden Science Night 2019
We thank more than 1000 guests for having come to the IPF on June 14, 2019!
For the winners and the solutions of the quiz, please change to the German version of this site (menue on top).
Lecture
20:00
(Micro)Plastic in our enviroment – What do we know?
Dr. Dieter Fischer

Lecture in German on nutrient sources, ways of transportation, whereabouts – possible threats for the humanity and the enviroment.
For children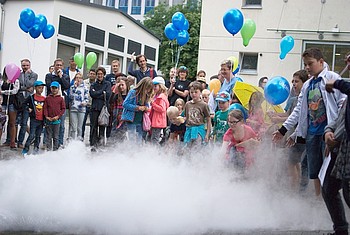 18:15
Chemistry for children (in German)
Dr. Jürgen Pionteck
Interactive lecture with experiments, about 45 min, for children from about 5 to 10
afterwards, from ca. 19:15
Do-it-yourself experiments: Experience polymer synthesis and physics with your own hands
In addition, many of the open labs are very demonstrative and, therefore, also suited for children.
Open labs and pilot plants
Relax and Release: Drug release from polymer films
Calculating with light? How will computers work in future? What effects do nanoparticles cause?
Separation made easy: Membranes for water treatment - membrane preparation live
Surface wrinkling to prevent bacterial adhesion: Plasma-based microstructuring of silicone surfaces
Micron-scale chemical imaging:Surface analysis by time-of-flight secondary ion mass spectrometry
The smallest cars on earth:How to build and race a nanocar?
Making tiny things visible -Light and electron microscopy
Getting polymers in shape:Polymer processing and production of parts by extrusion and injection molding
Quickly from ideas to plastic parts - 3D printing of thermoplastics
As you like it: Synthesis of biogenic 'green' polymers for new materials
Microplastics in the environment - Identification of microplastics in water, drinks, in rivers and the sea by Raman microscopy
Molecules in competition - Chromatography for investigation of the composition of substances
Charges on the tramp - How electric charges help to paint carts and clean waste water
Nanolayers fight bacteria and dirt - How thin and multifunctional polymer films will make our future easier
Fascination rubber - Development of novel elastomeric materials
(Melt) Spinning at night - Production of bio-degradable fibres and high-performance fibres from (waste) materials such as lignin
Stereolithography – precise polymer structures via 3D-printing: Fabrication of polymer objects with micro- to millimeter feature size
Further activites
Robe skipping with ATW Rope Skippers
Art exhibition "WAHRNEHMUNG UND VERWANDLUNG"
Paintings by Max Manfred Queißer
Culinary delights from the grill
Quiz
Looking back
We thank around 1000 guests for their visit during the Dresden Science Night on the 15th of June, 2018!
We congratulate the winners of the quiz!
up to 10 years: Veronika S., Maximilian H., Greta B., Caroline N.
older than 10 years: M. Zein, J. Hofmann
If you want to know, whether your answeres were correct - here are the solutions:
Kinderquiz - Quiz (> 10 Jahre) - Quiz (>10 years) English version