Menue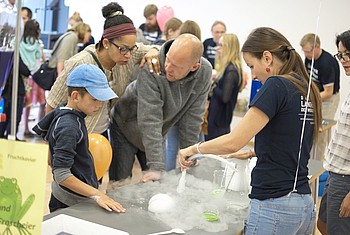 June 15, 2018 (18:00-1:00)
Experience the fascinating world of materials research at IPF! Learn about applications of polymer research in modern technology and discover areas of your life in which you already interact with polymers on a daily basis. The potential of this incredibly versatile class of materials is almost limitless -- from car tires to medical implants, from nanostructures to lightweight structures for airplanes. No matter if you really want to dive in or if you just want to take a quick peek -- you can select from our wide range of lectures, labs and activities to create your individual program for the night.
Dresden Science Night
Looking back
We thank around 1000 guests for their visit during the Dresden Science Night on the 15th of June, 2018!
We congratulate the winners of the quiz!
up to 10 years: Veronika S., Maximilian H., Greta B., Caroline N.
older than 10 years: M. Zein, J. Hofmann
If you want to know, whether your answeres were correct - here are the solutions:
Kinderquiz - Quiz (> 10 Jahre) - Quiz (>10 years) English version
Lecture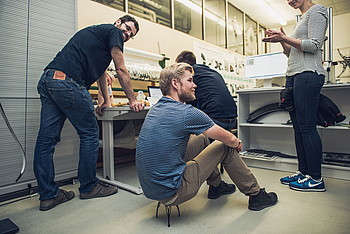 20:00
Leichtbau an der Grenze des Machbaren
Dr. Axel Spickenheuer

Lecture in German on fibre-reinforced composites, in particular the Tailored Fibre Placement Technology and its potential.
For children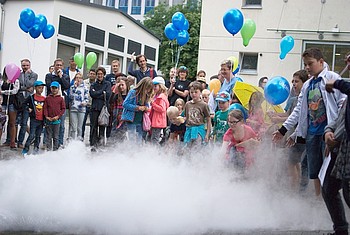 18:15
Chemistry for children (in German)
Dr. Jürgen Pionteck and Dr. Jan Domurath
Interactive lecture with experiments, about 45 min, for children from about 5 to 10
afterwards, from ca. 19:15
Do-it-yourself experiments: Experience polymer synthesis and physics with your own hands
In addition, many of the open labs are very demonstrative and, therefore, also suited for children.
Open labs and pilot plants
Relax and Release: Drug release from polymer films
Red Gold: Optical effects in material layers explained by the example of thin gold layers and nanoparticles
Surface modification by plasma jet
Get into (blood) contact! Interaction between material and blood in medical devices
Magnetic resonance spectroscopy (NMR and EPR) to study structure and dynamics
Light and electron microscopy
Polymer processing: Extrusion and injection moulding
Polymer processing: 3D printing
Glassblower's workshop
Synthesis of biogenic 'green' polymers for new materials
In-line modification of fibre-reinforced plastics components to allow coating
Hightec-structures from the stitching machine for applications from medical implants up to aircrafts
Infrared thermography to study deformation and fracture
Microplastics in the environment: Identification by Raman and IR sepctroscopy
Chromatography for investigation of substances
Nanolayers fight bacteria and dirt: Thin polymer films with easy-to-clean, anti-microbial and anti-fogging properties
Temperature profiles and exceptional portraits made by an infrared camera
Reinforcing fibres in composites - controlling adhesion and composite performance
Crash test for drops: From the investigation of drops by means of super slow-motion cameras to application of wetting phenomena
Fascination rubber: Development of novel elastomeric materials
Design and production of specific research equipment