Menue

Venue
The conference will take place in Andreas-Schubert-Bau at the campus of the Technische Universität Dresden.
Address:
Zellescher Weg 19, 01067 Dresden
Dresden
You should take the opportunity to come to Dresden on the occasion of the APME!
It is for centuries that Dresden has been praised one of the most beautiful towns in Germany.
Visitors who come to Dresden are impressed by the baroque architecture, by the harmony between the architecture and the river and picturesque surroundings. The work of inspired master builders, sculptors and architects endowed the city with edifices of rare splendour, and great traditions in the fields of music, theatre, arts, and sciences have created a unique atmosphere.
(Photos: Ch. Münch)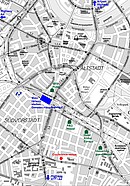 Travel
Dresden is situated in the East of Germany, not far from the Czech and Polish borders, and about 160 km south of Berlin.
An international airport links Dresden by direct connections with most German and many European cities.
The main railway station, which is not far from the conference venue and to recommended hotels, is on the railway lines connecting Hamburg/Berlin with Prague/Vienna/ Budapest as well as Frankfurt am Main/Leipzig with Dresden.