Menue
Measurement of powder conductivity
Dr. W. Jenschke, V. Körber, E. Stündel, Dr. J. Pionteck, Dr. B. Krause
Description
The device was set up in order to measure the electrical conductivity of powdery substances that are the basis of antistatic or electrical conductive modification of thermoplastics. The powder to be examined is filled into a cylinder and compressed by a piston. During the compression process, the electric resistance is continuously measured between two electrodes situated on top of the piston and on the bottom of the cylinder. The conductivity derived from the resistance and the geometry data is then recorded against the pressure. The control of the device as well as the data acquisition and analysis is carried out by a custom-made software developed with TestPointTM. The software allows user programming of different cycles and automatic control.
Technical Data
Motor: Step motor ST5918L from Nanotec, axial force: 1000 N, encoder SMCI44 with RS 422 interface
Encoder for actual value: 8.9081 from Fritz Kubier GmbH with RS 485 interface
Force sensor: Miniatur-Zug-Druckkraftsensor 8417-6001 from Burster, nominal force: 1000 N, digital display unit 918023 with RS 232 interface
Resistance meter: DMM 2001 from Keithley Instruments with GPIB interface
PC control by USB interface
Software: Custom-made Agilent VEE ™ application
Inner diameter of cylinder: 5 mm
Maximum pressure: 30 MPa
Contact:
Dr. B. Krause (Functional Nanocomposite and Blends)
Pulverleitfähigkeitsmessplatz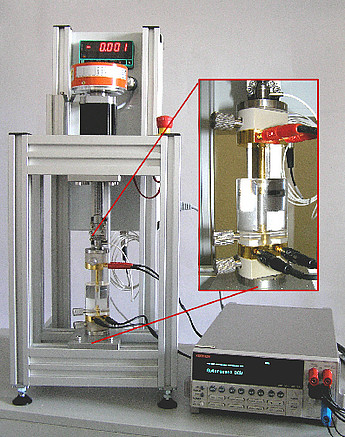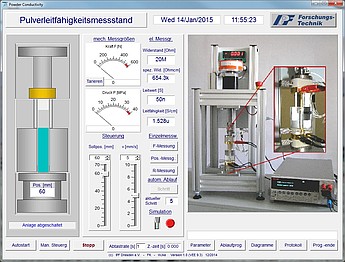 Beschreibung
Zur Untersuchung der Leitfähigkeit in pulverförmigen Substanzen, die die Basis für die antistatische oder elektrisch leitfähige Modifizierung von Thermoplasten bilden, wurde 2007 eine Versuchsanlage aufgebaut. Das zu untersuchende Pulver wird in einen Versuchszylinder mit einem Innendurchmesser von 5 mm eingefüllt. Mit einem Stempel wird das Pulver im Zylinder bis zu einem Druck von 30 MPa zusammengepresst und während des Pressens kontinuierlich der Widerstand zwischen zwei Elektroden, die sich an der Stempelspitze und am Boden des Zylinders befinden gemessen. Aus dem Widerstand und der Zylindergeometrie wird die Leitfähigkeit in Abhängigkeit vom Pressdruck bestimmt. Die Steuerung der Versuchsanlage sowie die Messwerterfassung und –auswertung erfolgte ursprünglich PC-gestützt mittels einer speziell mit dem Entwicklungstool TestPoint erstellten Software. Der Versuchszylinder besteht aus PMMA mit einer Wandstärke von 15 mm. Der Stempel besteht aus Kupfer und wurde wie auch die Bodenelektrode vergoldet. Der Vortrieb des Stempels erfolgt mittels eines Schrittmotors mit Lineartrieb, dessen Absolutposition mit einem speziellen Encoder ermittelt wird. Die Messung des Drucks erfolgt über eine Kraftmessdose, die sich zwischen Stempel und Linearantrieb befindet. Mit der Software, die 2015 im Zuge der Umstellung auf das Betriebssystem Windows 7 unter Agilent VEE völlig neu programmiert wurde, können beliebige Fahrprofile und automatische Versuchsabläufe programmiert werden.
Technische Daten
Motor: Schrittmotor ST5918L der Firma Nanotec, Axialkraft: 1000 N mit RS 422-Schnittstelle
Encoder für Istposition: 8.9081 der Firma Fritz Kubier GmbH mit RS 485-Schnittstelle
Kraftsensor: Miniatur-Zug-Druckkraftsensor 8417-6001, 1000 N Nennkraft von Burster Widerstandsmessung: DMM 2001 der Firma Keithley Instruments mit GPIB-Schnittstelle
GPIB-USB-Schnittstellenwandler Agilent 82357B
Schnittstellenwandler von USB auf 4 RS 232
Steuersoftware: Agilent VEE Applikation
Innendurchmesser Probenzylinder: 5 mm, Maximaler Pressdruck: 30 MPa
Kontakte
Dr. B. Krause (Functional Nanocomposite and Blends)