Menü
POLYMER MICRO(BIO)REACTORS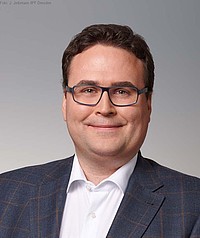 Group leader Polymer Micro(Bio)Reactors
at the Leibniz-Institut für Polymerforschung Dresden e.V.
Hohe Strasse 6
01069 Dresden
Phone: +49 (0)351 4658-271
Fax: +49 (0)351 4658-1326
Email: thiele@ipfdd.de
Group members
Carola Jorsch (Postdoc)
Simon Baumgarte (Master student)
Melanie Kühn (Lab Technician)
Lisa Schäfer (Master student)
Tony Köhler M. Sc. (PhD student)
Thomas Heida M. Sc. (PhD student)
Max Männel M. Sc. (PhD student)
Dr. Ivan Raguzin (Postdoc)
Nicolas Hauck M. Sc. (PhD student)
Mohammed Shahadha (Master student)
Not shown: Dr. Anika Kaufmann (Postdoc) and Guillermo Mur (Master student)
Research Topics


We are part of the Leibniz Research Cluster (LRC), an interdisciplinary network of five research groups. As part of the strategy "Biotechnology 2020+" of the BMBF, we aim at developing novel multifunctional, cell-free platforms for biotechnological processes combining natural sciences and engineering with clear applications in drug development beyond model systems.
Our core competences comprise
Fabrication of microfluidic flow cells via photolithography and 3D printing
Microemulsions and stimuli-sensitive surfactant design
Micron-scale, multifunctional polymer materials
Synthesis and application of hydrogels for cell biology and cell-free biotechnology
FOR MORE INFORMATION ABOUT SCIENCE, PUBLICATIONS AND NEWS, PLEASE VISIT THE WEBSITE: https://thielelab.com

Projects
BMBF: LRC - Leibniz Research Cluster (2015-2020)
DFG: Gene expression in hydrogels (2016-2019)
BMBF: Precision Matrix Engineering (PI Prof. Carsten Werner, IPF Dresden) (2016-2017)
BMBF: Dresden4Asia (German-Asian network on additive manufacturing) (2017)
5 most important publications
J. Thiele: " Polymer material design by microfluidics inspired by cell biology and cell-free biotechnology", Macromol. Chem. Phys. 2016, accepted.
T. Heida, J. W. Neubauer, M. Seuss, N. Hauck, J. Thiele, A. Fery: "Mechanically defined microgels by droplet microfluidics", Macromol. Chem. Phys. 2016, DOI 10.1002/macp.201600418.
O. Wagner, J. Thiele, M. Weinhart, L. Mazutis, D. A. Weitz, W. T. S. Huck, R. Haag: "Biocompatible fluorinated polyglycerols for droplet microfluidics as an alternative to PEG-based copolymer surfactants", Lab Chip 2016, 16, 65-69.
J. Thiele, Y. Ma, D. Foschepoth, M. M. K. Hansen, C. Steffen, H. A. Heus, W. T. S. Huck: "DNA-functionalized hydrogels for confined membrane-free in vitro transcription/translation" Lab Chip 2014, 14, 2651-2656.
M. Trebbin, D. Steinhauser, J. Perlich, A. Buffet, S. V. Roth, W. Zimmermann, J. Thiele, S. Förster: "Anisotropic particles align perpendicular to the flow-direction in narrow microchannels", Proc. Natl. Acad. Sci. U.S.A. 2013, 110, 6706-6711.
Job offers
Postdoc positions: Get in touch with us to discuss funding options: thiele@ipfdd.de