Menü
IMAGING SCANNING PROBE TECHNIQUE
Contact Imaging Scanning Probe Technique
at the Leibniz-Institut für Polymerforschung Dresden e.V.
Hohe Strasse 6
01069 Desden
Phone: +49 (0)351 4658-496
Fax: +49 (0)351 4658-281
Email: andy@ipfdd.de
Research Topics
The imaging scanning probe technique is used to reveal the morphology of surfaces and of bulk material (after appropriate preparation). Special techniques allow the spatially resolved measurements of:
mechanical parameters (Young's modulus, adhesion, energy dissipation),
distribution of electric charges or magnetic domains, surface potential, electric conductivity,
melting and solidification behavior
The measurements can be done in air, liquids, or gaseous environment, and also with varying humidity by the following methods:
contact mode (CM)
tapping mode (TM) with phase imaging
peak force tapping (PFT) with quantitative nanomechanical analysis (QNM)
magnetic force microscopy (MFM)
electrostatic force microscopy (EFM)
surface potential microscopy (SPoM)
torsional resonance mode (TR)
tunneling AFM (TUNA)
conduct AFM (CAFM)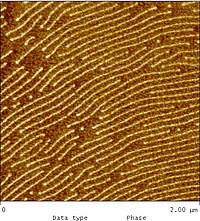 Equipment
Dimension ICON (Bruker) with heating/cooling stage (-35°C ...250°C)
Dimension V (Bruker)
Dimension 3100 / NanoScope IIIa (Bruker)
MultiMode 8 with heating scannner (20°C...250°C)
MFP-3D (Oxford Instruments)
5 most important publications
Iyisan, B.; Janke, A.; Reichenbach, P.; Eng, L. M.; Appelhans, D.; Voit, B. Immobilized multifunctional polymersomes on solid surfaces: Infrared light-induced selective photochemical reactions, pH responsive behavior, and probing mechanical properties under liquid phase, ACS Applied Materials & Interfaces 2016, 8, 15788–15801.
Gaitzsch, J.; Appelhans, D.; Janke, A.; Strempel, M.; Schwille, P.; Voit, B. Cross-linked and pH sensitive supported polymer bilayers from polymersomes - studies concerning thickness, rigidity and fluidity, Soft Matter 2014, 10, 75-82.
Werner, S.; Pospiech, D.; Jehnichen, D.; Eckstein, K.; Komber, H.; Friedel, P.; Janke, A.; Näther, F.; Reuter, U.; Voit, B.; Taurino, R.; Messori, M. Synthesis and phase-separation behavior of a,v-difunctionalized diblock copolymers, Journal of Polymer Science: Part A: Polymer Chemistry 2011, 49, 926-937.
Cordeiro, A. L.; Zschoche, St.; Janke, A.; Nitschke, M.; Werner, C. Functionalization of poly(dimethylsiloxane) surfaces with maleic anhydride copolymer films, Langmuir 2009, 25, 1509-1517.
Albrecht, V.; Janke, A.; Schubert, G.; Drechsler, A.; Németh, E.; Simon, F. Visualization of Charge Domains on Polymer Surfaces, Progress in Colloid and Polymer Science 2006, 132, 48-53.