Menue
News
Hermann-Staudinger-Preis für Professor Brigitte Voit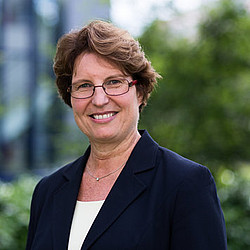 Frau Professor Dr. Brigitte Voit, Wissenschaftliche Direktorin des Leibniz-Instituts für Polymerforschung Dresden und Professorin an der Technischen Universität Dresden, wird mit dem Hermann-Staudinger-Preis der Gesellschaft Deutscher Chemiker (GDCh) ausgezeichnet.
Die Ehrung erfolgt am 24. September 2018 im Rahmen der internationalen Tagung "Dimensional Control of Polymer Materials – From Synthesis to Function" in Karlsruhe.
Der Hermann-Staudinger-Preis wird Frau Professor Voit von der GDCh für ihre beeindruckenden Leistungen im Bereich der Makromolekularen Chemie verliehen. Brigitte Voit (55) begann ihre wissenschaftliche Karriere an der Universität Bayreuth. Nach ihrem Chemiestudium, das sie dort 1990 mit der Promotion abschloss, wurde sie 1996 an der Technischen Universität München habilitiert. Bereits im Alter von 34 Jahren übernahm sie im Rahmen einer gemeinsamen Berufung die Professur für Organische Chemie der Polymere an der Technischen Universität Dresden und die Leitung des Instituts Makromolekulare Chemie am Leibniz-Institut für Polymerforschung Dresden e.V.. Seit 2002 ist sie zudem Wissenschaftliche Direktorin des Leibniz-Instituts. Sie gilt international als Expertin für verzweigte Polymerarchitekturen, Funktionspolymere und biofunktionale Systeme. Neben ihrer Forschungstätigkeit hat Frau Professor Voit durch die Schaffung wissenschaftlicher Netzwerke Herausragendes für die Sichtbarkeit deutscher und europäischer Polymerforschung geleistet.
Im Jahr 2000 wurde sie von der GDCh bereits mit dem Georg-Manecke-Preis der GDCh ausgezeichnet; 2017 wurde ihr der Sächsische Verdienstorden zuerkannt.
Der Hermann-Staudinger-Preis, der in Deutschland zu den höchsten Auszeichnungen im Fachgebiet der Makromolekularen Chemie zählt, wurde in Erinnerung an den Vater der modernen Polymerchemie und Nobelpreisträger für Chemie (1953) im Jahre 1970 von der BASF AG bei der GDCh gestiftet und wird höchstens alle zwei Jahre vom Vorstand der GDCh an Wissenschaftler/innen verliehen, die besondere Verdienste auf dem Gebiet erworben haben.
Die Gesellschaft Deutscher Chemiker (GDCh) gehört mit rund 31 000 Mitgliedern zu den größten chemiewissenschaftlichen Gesellschaften weltweit. Sie hat 27 Fachgruppen, darunter die Fachgruppe Makromolekulare Chemie mit über 1200 Mitgliedern. Die Fachgruppe vereint Wissenschaftler aus Hochschulen, Forschungsinstituten und der Industrie aus allen Bereichen der Polymerchemie und -physik.
Pressemeldung 32/2018 der GDCh
24.09.2018