Menue
Bionic optimization of textile-strengthened fibre-reinforced composite materials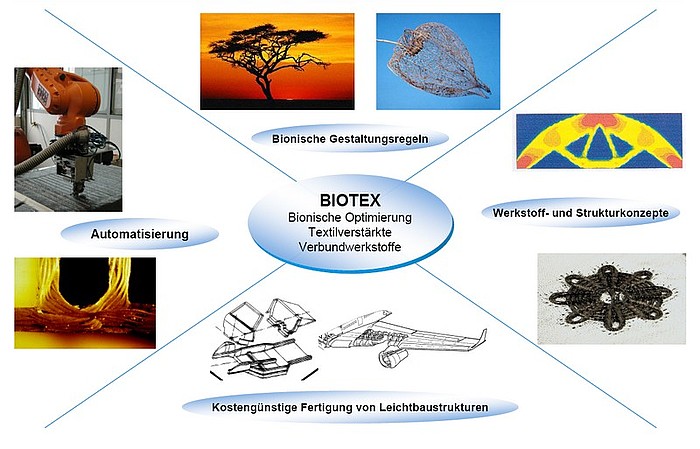 Duration
January 2005 – December 2008
Purpose
In nature you can finds frequently fibre-reinforced composite structures whose geometry and fiber-reinforcement is optimally adapted to the to the appropriate load. Examples for this assertion are trees, grasses or bones. New evaluation methods are based on observations of biological growth. This methods already will be used for example during the topology optimization of metallic constructions. The same methodology can be used in principle also for the optimisation of fiber-reinforced geometry.
The Purpose of the optimisation is to obtain a load of a structure as even as possible most possible by the homogenization of the tensions and the orientation of the fibers in main stress direction. Thereby it is possible to arrange structures with optimal lightweight construction potential in those the characteristics of the high speed fibers optimally will used. The conversion to practical applications failed so far because of the fact that there were no finishing techniques available for this usually complex and three-dimensional fibre-reinforced geomertries.
Remedy could find for example the novel preform technology, which were developed in the last years in the context of more differently publicly aided projects. Multiaxial clutches, 3D-Plaits and Tailored Fiber Placement enables for example the low-cost and automated production of reinforcement geometries with a very high flexibility in relation to the preform geometries and the fibre reinforcement.
One of the futher development of the TFP-technology should enable to realize spatially arranged and with binder fixed fiber arrangements. Moreover the scientists realize atm with the Fibre Patch Preforming (FPP) a novel method for the binder based placement area of short fibre units. The expected novel technolgies will help in the futher in comination with existing processes to automatise and realise very complexe and high integrated geometries and fibre reinforcements. A further important aspect is the preservation of resources with the end-conture near production for a minimisation of the costs (optimised usage of the expensive fibres) and for the recyling (minimisation of manufacture wastage)
So its possible that the vision of engineers and scientists be reality: produce low-cost light-weight structures modelling on the structure concepts of the nature. The new technologies and experience is of interest of the aircraft construction, the automotive engineering, the wind energy plant, the shipbuilding and the general engineering.
Project partner
EADS Deutschland GmbH
TU Stuttgart (Institut für Flugzeugbau, Institut für Statik und Dynamik)
DaimlerChrysler AG
Forschungszentrum Karlsruhe GmbH
August Herzog Maschinenfabrik GmbH & Co. KG
Keilmann Sondermaschinenbau GmbH
Dipl.-Ing. H. Moldenhauer GmbH & Co. KG
Saertex Wagener GmbH & Co. KG
Chemnitzer Textilmaschinen- Entwicklungs GmbH
Sintec Keramik GmbH & Co. KG
Volkswagen AG
Wacker Polymer Systems GmbH
Forschungszentrum Jülich