What we offer to school students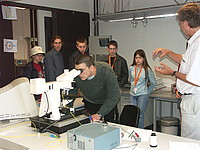 With different activities we want to inform teachers and school students on modern polymer research, plastics processing, and the amazing versatility and properties of polymers in many high-tech applications. Thus we want to deepen the school students' interest in chemical and physical phenomena and encourage them to decide for a professional carreer in chemistry, physics, materials science or some other technological or scientific field.
We ask for your understanding that dates and extent of all activities for school students have to be harmonized with the institute's research works and are therefore, limited. Please let us know your wishes and do also use the chance to visit the institute on the occasion of the Night of Sciences, the Girls' Day, and the Open Doors Week of Saxon Enterprises.