Menue
Thermo Scientific HAAKE PolyLab OS with Rheomix 3010
The HAAKE PolyLab System consists of the RheoLab OS toque rheometer wich includes all functionality for driving and controlling the measuring sensors. It is the control center for the external PC as well as the other system components as a Master. Intelligent mixer sensors (Slaves) determine the application. They are equipped with measuring and control to the specific application and deliver the neccessary data to the Master via measuring bus system.
Technical Specifications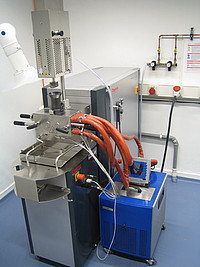 | | |
| --- | --- |
| | |
| Speed range: | 0-250 min-1 |
| Torque range: | 300 Nm |
| Bowl capacity (without rotors): | 625 ccm |
| Bowl capacity (with Banbury rotors): | 379 ccm |
| Temperature control: | liquid temperature control (up to 200°C) |
Application
Mixer sensors are used to test processes such as the mixing, compounding and plastifying of polymers, chemicals, ceramics and pigments under production-style conditions.