Menue
Intermolecular interactions of biofunctional polymers
The characterization of biopolymer systems consisting of different components with emphasis on bioactive interactions is a challenge again and again. Our first attempts to characterize biocomplexes and aggregation behavior of bioactive molecules led to the development of novel physicochemical approaches with high application potential.
The focus of our research is based on three different types of interaction:
1. interactions between similar biopolymers (e.g. aggregation or cross-linking) for stimuli-responsive size changes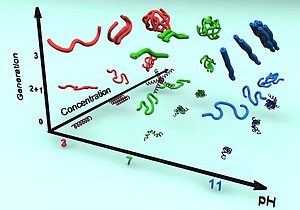 2. non-covalent interactions between large host polymers and smaller guest molecules (e.g. complexation studies) for targeted drug-delivery
quantification of loading efficiency by AF4 in combination with UV and LS detection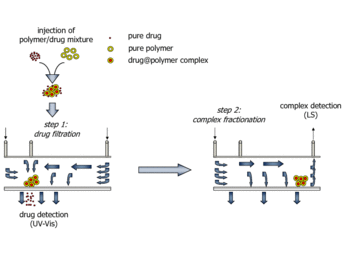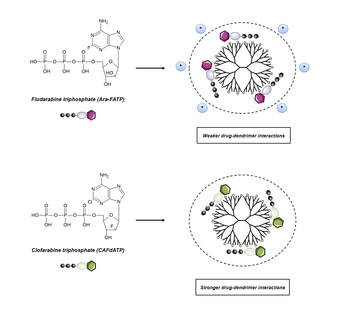 loading studies of stimuli-responsive polymersomes with enzymes by AF4: quantification of cargo amount and loaction information by correlation of scaling parameters, apparent density and cargo properties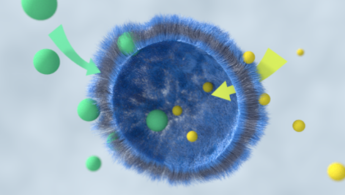 3. bioconjugation to fabricate supramolecular structures (e.g. studies of biohybrid structures or polyplexes) as e.g. sensor materials
The determination of multicomponent or aggregate distribution together with a characterization of scaling parameters enables a deep insight into structure-property-relationship. Large dimensions, high molar masses and extremely high functionality are characteristic for these molecules, accompanied by challenging molecular characterization. Using AF4 coupled to static light scattering, dynamic light scattering as well as using complementary methods such as AFM and MD simulations we can shed light on the interactions of biopolymer systems.