Menue
Equipment
Spectroscopic ellipsometry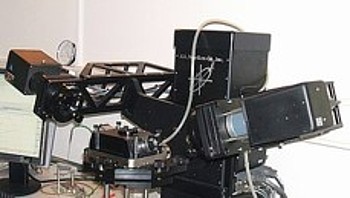 Horizontal M2000-UI
J. A. Woollam Co.

one rotating compensator
wavelength range: 245 nm - 1690 nm
number of wavelengths: 660
wavelength resolution: 1.6 nm
automated angle of incidence: 45° - 90°
measurement time for spectrum: 2s - 5s
We apply the M2000-UI for the analysis of the optical properties of uniaxial thin films. By courtesy of the King's lab, we can use the RC2 ellipsometer for ellipsometric measurements of biaxial thin films.
For the analysis of temperature dependent film properties we use a heating stage (INSTEC or Linkam) measuring in intert nitrogen or argon atmosphere.
Alpha-SE
J. A. Wollam Co.
one rotating compensator
wavelength range: 380 nm - 900 nm
number of wavelengths: 180
manual angle of incidence: 65°, 70°, 75°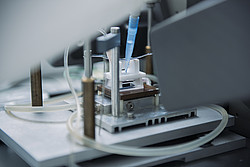 At one of our Alpha-SE ellipsometers we apply a home-built tripod temperature stage for temperature sensitive measurements of in-situ swelling of polymer films in aqueous solutions and selected solvents.
For this setup we use stress free batch cuvettes of quartz glass with an angle of incidence of 70° (Hellma GmbH & Co. KG).
By courtesy of the IPF Institute of Polymer Materials we perform our X-ray thin film analyses on the XRD 3003 diffractometer (θ/θ-device, GE Sensing & Inspection Technologies, Ahrensburg, Germany) and the Ganesha 300 XL+ (SAXSLAB, Kopenhagen, Denmark).
XRD3003
Optics: Goebel mirror (parallel beam)
Probe beam: Cu Kα in air
Blends: slit blends ≥ 50 µm, soller colimator
Detector: Scintillation counter
Modes: XRR, 1D-GIWAXS, XRD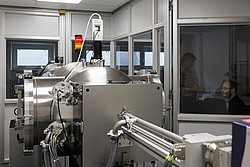 Ganesha 300 XL+
Probe beam: Cu Kα in vacuum
Blends: automated 3 blend system
Detector: Pilatus 300k
Modes: 2D-GIWAXS
IR-analysis of ultra-thin films
We utilize the MIR-spectroscopy equipment of the Center to analyze H-bonding in ultra-thin films of 10 nm to 30 nm thickness deposited on Si-wafer (multiple reflection ATR-Si-Wafer unit) and of 70 nm to 100 nm thickness deposited on gold (80° grazing angle unit). For monitoring of temperature dependent changes in H-bonding the 75° grazing angle vacuum temperature cell (Harrick) is used.