Menue
Ellipsometry of organic thin films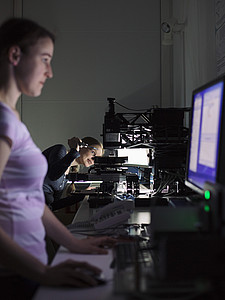 We investigate structural and optical properties of new organic materials in nm-thin films for applications in bio-interfaces and organic electronics.
With the help of spectroscopic ellipsometry we explore
swelling of polymer films
biomolecule adsorption
temperature dependent phase transitions
anisotropic optical properties of semiconducting films for OPV or OLED
To understand morphology development in organic thin films we further focus on interaction analysis by IR-spectroscopic techniques for ultra-thin films as well as the observation of crystalline textures by grazing-incidence wide angle X-ray scattering (GIWAXS).
News
2021
May, 31st: Eva is invited to present the topic "Structural templating of organic semiconducting thin films to tune aggregation, molecular orientation, and optical properties" at the online E-MRS meeting in the Symposium N: Current trends in optical and X-ray metrology of advanced materials for nanoscale devices VI
2020
July: Our paper on the morphology of ellagic acid thin films was published in J. Phys. Chem. C 2020, 124, 30, 16381–16390. Thanks a lot to all the collaborators of this complex work.
April / June: In-situ swelling experiments and refractive index determination of ambients were contributed to two Langmuir papers this year; one on surfaces preventing ice-adhesion (36, 16, 4465–4476) and the other on antifouling polymer brushes (36, 29, 8485–8493).
January: The paper of M. Magnozzi on plasmonic Au/polymer core/shell nanoparticles was accepted by ACS Applied Nano Materials 2020, 3, 1674-1682. We were glad to support the in-situ ellipsometric work.
2019
December: The festive colloquium "30 years of polymer spectroscopy and ellipsometry at IPF Dresden" was hosted by the IPF to honor the contributions of Dr. Klaus-Jochen Eichhorn to the field at the advance of his retirement.
May: Together with Chris Sturm (University Leipzig) Eva won the Paul Drude Award, given to 1-2 young scientists for exceptional contributions to the development and application of spectroscopic ellipsometry every three years.
Projects
8/2019 - 1/2022: Technologies for efficient encapsulation of flexible electronic components (TFE4OPV), leading PI: Heliatek GmbH, PIs IPF: P. Uhlmann (NM), E. Bittrich (MSA), partners: Fraunhofer FEP

8/2017 - 04/2020: Bioinspired molecular self-assembly of donor-acceptor networks in organic solar cells (InspirA), leading PI: Heliatek GmbH, PI IPF: P. Uhlmann (NM), partners: Friedrich-Schiller University Jena, Synthon Chemicals GmbH & Co. KG