Menue
Personal Homepage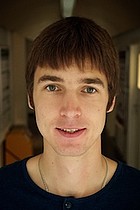 Research areas
organic photovoltaic polymers
nanocomposite materials / adsorption on solid surfaces
polymer melts and solutions
Scientific background
M. Sc. in Chemistry at the Kharkiv National University (Ukraine, 2010)
Ph. D. (Dr. rer. nat.) at the University of Regensburg (2014)
Postdoctoral researcher at the Institute of Material Science and Max Bergmann Center of Biomaterials, TU Dresden (09/2014 - 06/2016). Project: "Nanopatterned Organic Matrices in Biological Silica Mineralization"
Since 10/2016 postdoctoral researcher at the IPF/ITP in the group of Prof. Jens-Uwe Sommer. Project: "FLow Induced Phase Transitions (FLIPT)"