Menue
INTERFACIAL PHENOMENA IN TECHNOLOGICAL SYSTEMS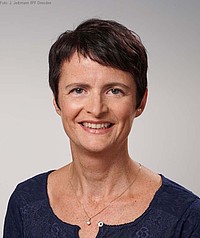 Group leader Interfacial Phenomena in Technological Systems
at the Leibniz-Institut für Polymerforschung Dresden e.V.
Hohe Strasse 6
01069 Dresden
Phone: +49 (0)351 4658-684
Fax: +49 (0)351 4658-474
Email: mueller-anett@ipfdd.de
Research topics
The group "Interfacial phenomena in technological systems" works in the field of complex strongly industrial research questions. The main tasks are manufacturing, adhesive bonding and coating (solvent based systems and powder coating) of polymeric and metallic materials. Thereby the focus is on fiber reinforced Polymers. Particular importance is given to pretreatment and cleaning of surfaces. An other area is development of suitable tools and their construction. In addition to an extensive analytical equipment there are an atmospheric pressure plasma unit and a low pressure plasma unit for pretreatment and plasma enhanced layer deposition with silicium organic additives (HMDSO, TEOS, etc.) as adhesive primer or permeation barrier in food and package industry.
Projects
AiF-IGF: "Development of tool surfaces for an improved demoulding process"
AiF-ZIM: "Load optimized bonding"
AiF-ZIM: "Functional coating of fibre reinforced components with high surface quality"
AiF-IGF: "Atmospheric pressure plasma enhanced layer deposition on food package"
AiF-ZIM: "Development and prototype production of a highly variable 3-component mixing
and dosing system for research institutions and SMEs"
5 important publications
Knapp, A. ; Müller, A. ; Lucia, M. ; Spickenheuer, A. ; Bittrich, L. Load optimized bonding Adhesion - Adhesives & Sealants 13 (2016) 18-21.
Petzold, C. ; Lucia, M. ; Groß, S. ; Müller, A. ; Schneider, J. ; Stoll, A. Surface structuring of sheet moulding compounds (SMC) for process reliable coatings Materials Science Forum 825-826 (2015) 663-670
Müller, A. ; Riske, T. Oberflächenmodifizierung von Sheet Moulding Compounds (SMC) : Dauerhaft besser klebbar Adhäsion : Kleben & Dichten (2013) 34-39.
Gedan-Smolka, M. ; Müller, A. ; Gohs, U. ; Calvimontes, A. Electron pretreatment of sheet molding compounds (SMC Progress in Organic Coatings (2011) 159-167.
Gedan-Smolka, M. ; Müller, A. ; Gohs, U. ;Verfahren zur Aushärtung und Oberflächenfunktionalisierung von Formteilen, Patentschrift, DE00102009001145, WO00002010097276, US00002011311733, CN102333814, EP2401323, JP2012518712.