Menue
CONTROLLING WETTING & ADHESION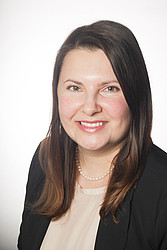 Group leader Controlling Wetting & Adhesion
at the Leibniz-Institut für Polymerforschung Dresden e.V.
Hohe Strasse 6
01069 Dresden

Phone: +49 (0)351 4658-475
Fax: +49 (0)351 4658-474
Email: synytska@ipfdd.de
Group members
Ugo Sidoli
Madeleine Schwarzer
Claudia Marschelke
Kathrin Pöschel
Martina Priebs
Fabian Kopsch
Research topics
We aim at the deep understanding and controlling of macroscopic wetting and adhesion interfacial phenomena and their molecular origins. This knowledge might ultimately lead to the rational design of high performance multifunctional materials for various applications as adhesives, paints and protective coatings, functional composites, functional interfaces for solar cells and optoelectronics, as well as biomaterials.
For this we develop new chemical approaches for the targeted interface design and modification using polymer grafting, polymer-brush-modification, coatings with core-shell hybrid colloids or plasma-modification. We address key questions concerning the molecular origins of wetting and adhesion as well as their correlation to chemical functionality, polymer architectures, surface charge, structural and topographical features and elasticity of materials. We use a unique combination of complementary physico-chemical, spectroscopic as well as direct force (AFM colloidal probe) measurements methods as a powerful tool for the thorough functional analysis and understanding of properties of interfaces.
Our current research highlights are specifically focused on the bio inspired design of interfaces with tailored and controllable adhesion performance under wet, underwater, or extremely cold conditions/ icing environmental conditions.
5 important publications
Kirillova, A.; Ionov, L.; Roismann, I.; Synytska, A., Hybrid Hairy Janus Particles for Anti-Icing and De-Icing Surfaces: Synergism of Properties and Effects, Chemistry of Materials 2016, 28(19), 6995-7005.
Kirillova, A.; Marschelke, C.; Friedrichs, J.; Werner, C.; Synytska, A., Hybrid Hairy Janus Particles as Building Blocks for Anti-Biofouling Surfaces, ACS Appl. Mater. Interfaces 2016, 8(47), 32591–32603.
Synytska, A.; Bielig, E.; Ionov, L., Adaptive PEG-PDMS brushes: Effect of Architecture on Adhesiveness in Air and Under Water, Macromolecules 2014, 47, 8377–8385.
Kampermann, M.; Synytska,A., Switchable Adhesion by Chemical Modification and Surface Topography, Journal of Material Chemistry 2012, 22, 19390-19401.
Synytska, A.; Svetushkina, E.; Martina, D.; Bellmann, C.; Simon, F.; Ionov, L.; Stamm, M.; Creton, C., Intelligent Materials with Adaptive Adhesion Properties Based on Comb-like Polymer Brushes, Langmuir 2012, 28, 16444−16454.